Taking it back in time, we can talk about agora, bazar, forum, and labyrinthine souk. What these Romans, Greeks, Berbers, and Arabs have done centuries ago, is what we witness 'the shoppability' as same to some extent. The prime objective then, was just to display the products in their innovative ways. Along with the objective, the approach to the design was also (kind of) minimalistic.
To give a year to it, it dates back to the 1800s when England has its first departmental store and America started its massive mall's post-world war II. And we just can't ignore the first mail-order catalog by Montgomery Ward.
Thus, the history of retail design can be taken as the literal roots of a broader term 'Retail Interior Design'.
Now, what is a Retail Design?
Retail design is a discipline that is creative yet commercial. As it inculcates several spaces of expertise with specialized elements from architecture, interior design, ergonomics, advertising, and industrial design.
In other words, a retail design is more than a design, it is a concept based on experiences, sensations, feelings, and behavioral responses. The brand resonates with itself from a retail design to invoke stimuli in consumers' nerves for its products and services. We can also say that the ease of shopping doesn't merely depend upon the strolling of retail spaces.
At present space where a pandemic has not left any industry affected by its wrath, brands are coming up with a virtual store way before getting into a physical space. And this shift is just because the brand wants to understand deeply about consumer behavior and psychology through its different mapping techniques. If to discuss mapping techniques, the most prominent way is by installing heatmap cameras at the store/website. These heatmaps track the consumer according to the behavior they pose in-store in form of retail analytics. Where they are strolling most, in what section of the store, their cool level while standing in pay queue, their demographics, headcount, how are they coming – either in groups or individually, what's their hyper breaking journey, time-spent ratio, etc. These retail analytics help brands and retailers to figure out the 'leaky-buckets' and to inculcate retail store treatments accordingly. And the inculcation can be weekly, monthly, quarterly, or yearly. With upgraded brand visibility.
Now, what's that EXPERIENCE that we are talking about –
We can derive that the experience is directly proportional to a human's IQ (Intelligent Quotient) and EQ (Emotional Quotient).
In other words, when all the senses (of a human) are aligned towards an SP (single point), is where the experience is created.
It's the retail experience that is invoked by these retail designs where different elements like store layout design, store ambiance, brand's storytelling [from Online to Offline (O2O) perspective], marketing/branding strategies, etc. play their bit. And yes, we call it in bold 'EXPERIENTIAL RETAIL'.
There are different layers of experience too. And through these layers, we can see the most advanced phase of Toffler's third wave in form of bubbles in the industry.
At present, the retail experience is one of the factors associated with a retail industry that is most sought. Brand building experience is like an addition to the strategies made and applied.
For a decade now, brands are taking the next step forward by moving from conventional brick-and-mortars to humanized experience designs. Like different platforms – MBO's (Multi-Brand Outlets) and EBO's (Exclusive Brand Outlets) that brand bangs on while establishing them over a period. These brands find the experience centers as a medium to convey their brand story and exclusivity more effectively. The information and education about the brand are some of the main fundamentals of an experience center.
Including the immersive technology 'Virtual Reality', we make the consumer travel time bridging reality and future. Through visuals and the touch-n-feel integration, this experience is just extravagant. The consumer gets a perception of the brand he/she hasn't experienced before.
Like everything, there are pros and cons of this technology too –
A question for you – How Experiential Retail Design is Increasing Sales?
And the answer to this is as simple as visualizing 'A for Apple'. And that is 'Experience'.
Every experience is built around a theme or a concept. So, the master key to building a one is the 'Exceptional Concept or a Theme'. Just get discomforted from your comfort zone. Make the copywriters work on an idea that is 'Out-of-the-Box', that is never thought of before.
Concurrent to it, a design is also built to a concept/theme that the consumers can relate to, in terms of brand. And gradually the brand narrative will get in full shape. The evolved form of that narrative is the brand perception built in front of the consumer. It perceives it well when it is sautéed with branding, promotions, advertising, etc.
Brands nowadays are experiencing a fierce dodge from the competition too. Insights being more minute and personalized, they have to cope with consumer shift along with the buying patterns that are fluctuating with digital interventions,
What's that Digital Intervention?
From conventional retail designs, we have moved tremendously to the advanced phase of Toffler's third wave i.e. Technology. The virtual world comprises social media platforms and other online platforms with software like heatmaps that provide deep analytics about the consumer according to its geography, demographics, frustration level (at pay-out queues), etc.
To give a clear view to it –
For STUDDS (one of the world's leading helmet conglomerates), D'ART had designed the store layout to make the SKU's fit perfectly. Yes, it's an EBO format where the true helmet world along with its accessories and gears can be experienced. The legacy of STUDDS was kept intact though. We placed a VR headset to make the consumer experience the wrath of rash driving and what a STUDDS helmet can do in that scenario. Consumer witnesses the accidental scape while wearing a STUDDS helmet, and how it protects it from severe head injuries. Moreover, a helmet sanitizing machine was installed to keep the gear clean and safe. This retail design was acclaimed internationally by World's Best Design Award "A'Design". Thus, it was a benchmark design that was made to reality from design to execution.
Who's Behind that Retail Experience?
Yes, the brand is. But the brand is not alone in providing that extravagant experience. The answer to it is the brand's retail design agency that is playing the role of a mastermind in amalgamating that immersive experience with the brand's narrative. What do they do? – they capture the brand's leaky points and strong points. With an extensive market, competition, and consumer research they create a strategy to design its MBO/EBO format (as per brand requirements/approvals/budgeting) to make the ROI from every inch of the store.
Here are the Top 10 Reasons to Hire a Retail Design Agency –
• The Know How to Deliver Best for the Best
It's all about being 'The Best in Business'. And with an updated approach towards everything from strategy to tools, the agency will cater to the finest deliverance.
• They Know How to Beat the Heat of the Competition
It's all about being 'The Best in Business'. And with an updated approach towards everything from strategy to tools, the agency will cater to the finest deliverance.
• They Know How to Beat the Heat of the Competition
With a team of experts both on-ground and off-ground, they conduct deep yet extensive competition research to mark the visibility of their clients. Revamping the brand's marketing, design, branding, and advertising strategy they capture the audience in a well-targeted way.
• Top-Notch Quality
The quality comes from the expertise and the experience. How many happy and satisfied clients do an agency have built trust and loyalty. Moreover, the professionals hired to perform the tasks efficiently is must deliver the quality promised. A well-established network of vendors/suppliers with a properly managed supply chain network adds some great perks to the whole execution.
• Cross-Industry Expertise
An agency that is working with clients from various industries is capable of providing cross-industry expertise. Every industry demands and gives out its own experience and the count to these agencies is somewhat limited. The retail experience can also be counted from that scope when the agency is itself capable of it. In the end, it's about fresh perspectives and points of view.
• Helps in Connecting New Audience
There is a time when a brand reaches the saturation level of gathering a new audience. It's an alarm for the brand that it's time to revamp the strategy, approach towards the market. Therefore, it hires the agency to accomplish it. The agency has its way to face-lift the brand identity and capture new eyeballs that are conversion-effective.
• Cost Relevance
Every expertise comes with a price. Many times, a brand doesn't figure out what it needs and how much. Though many players dupe their clients by extorting money in the name of different 'fees'. But the agency that carries relevance in its budgeting is the most preferred one.
• Helps to Stay in Trend
Every brand needs/wants to stay in trend. Be at the top amongst its competition. if a brand cannot do it by itself and the brand image is hampered or lost its sheen, it needs an overhaul strategy to make the mark again. An agency that is well-updated with industrial trends can help the brand hit the bullseye. And that trend is primarily targeted over the virtual/digital spaces.
• Gives the 'Stand Apart' Factor
Like the above-mentioned pointer, the strategy to make the brand 'stand-apart' is a shouldered responsibility of an agency. But how to achieve that? An agency can make the brand - Sigma Man by effective retail, marketing, branding strategies. They are specialized in grabbing opportunities for branding and marking spots to achieve the target of higher visibility.
• Effective ROI
What a brand spends on a campaign should incur a high Return on Investments (ROI). There is no space for excuses while burning cash with a casual attitude. The agency is proficient in providing brand visibility and conversions with the highest returns.
• Timely and Precise Execution
It comes with expertise again. The promise broken can never be fixed. If the execution is not precise, in other words – not up to the mark, the brand is the one that has to suffer the part of losses with the agency. Though acts of god and uncertain civil disturbances are relevant to compensate, some schedules and tasks are calendared to be executed with precision.
But what if a brand is having a store, then what type of treatment does it needs?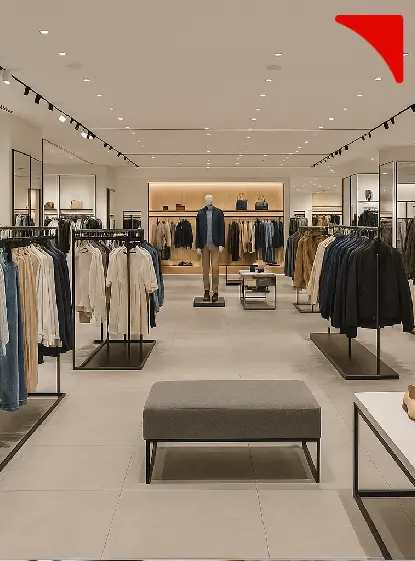 Is there a need for a digitized shopping experience? The answer to it is the behavioral shift in consumers' shopping patterns. Just because there is a boom of e-retailing everywhere, the purchase decisions are made even before the consumer entry to the store. He/she has its price verified, reviews marked, trust accomplished, and many more. But what these brick-and-mortars should do? They have to revamp their in-store experience strategy. E-retailing can't just eat them up like this.
If we see in current times, people are preferring to be indoors, but as soon as the relaxations are up, they want to stroll in these stores. Along with the safety SOPs, they want to get the brand touch more personalized.
In the two years of the pandemic, many brands have lost themselves and even more, their integrity to survive. Recovering slowly and steadily they put their pieces together.
But what's there for FUTURE in the vault?
The future seems always bright and the disruptive innovations are acting like interventions in a space as 'NEED' with a 40% stake in an O2O Retail Store. The five prominent disruptive innovations to understand are –
• Artificial Intelligence
• BlockChain
• 3D Printing
• VR/AR
• IoT (Internet of Things)
These innovations along with 'never to forget' Traditional Inputs and Mid-Level Innovation are making a perfect 'Retail O2O Mix'. They are leading us to a more advanced technological wave which we eye as the future.
And, most importantly, the brand is doing Experiential Retail on the shoulders of these innovations.
Hence, mastering the art of capturing experience nerve is the key to many successful endeavors. And there's a competition in providing experiential retail too. Many big players are churning 10x to 20x revenues with well-established consumer loyalty and repeat purchases. With digital and immersive technology intervention the possibilities are coming closer to grab that nerve. Like past is always behind and future is always in front, we just play our cards in present from former's learnings to make the other better and fruitful.