AT ITALIAN BEACH
Dolce Gelato is a popular frozen dessert of Italian origin. It's not only the mouth-watering flavours, density and richness that distinguishes it from other ice-cream brands, but the ice creams they produce are also low on fat. With its current retail architecture, the brand was facing a few design challenges. Challenges like retail architecture synchronization, the right balance of creative & content, brand legacy and customer engagement.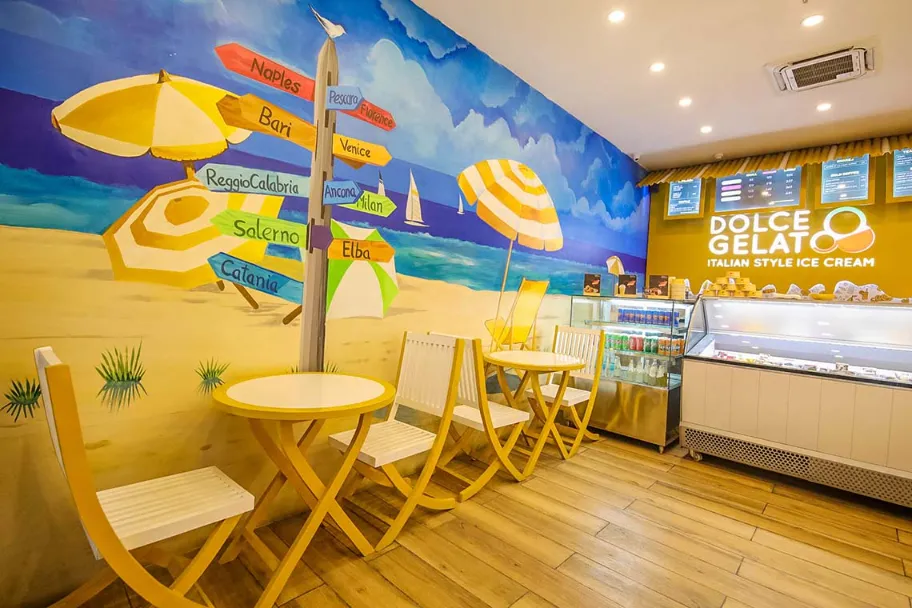 D'Art the world's leading design agency is always dedicated to provide a top-notch design service and deliver high-quality custom design and engineering solutions that meet the client's aspired needs in a way that is aesthetically pleasing and ultimately practical. Our team of award-winning designers do not compromise on design & quality, ensuring that the project is delivered to the highest possible standards.
Since the brand is from Italian ice-cream inspiration, we have tried to freeze the moment in our design language. Customer enjoying dolce gelato right at the Italian beach hence the wooden deck, seashore, full of life moment and much more. An Italian beach life that was never captured inside the store. Surfing board modified as lights, cone shape sitting stools makes it all the more engaging for consumers. Mouth-watering dolce gelato with exotic Italian beach experience leaves long-lasting bond in the consumer mind and heart.