IS TECHNOLOGY STRENGTHENING SUSTAINABLE RETAIL STORE DESIGN INITIATIVES OR CRUSHING THEM?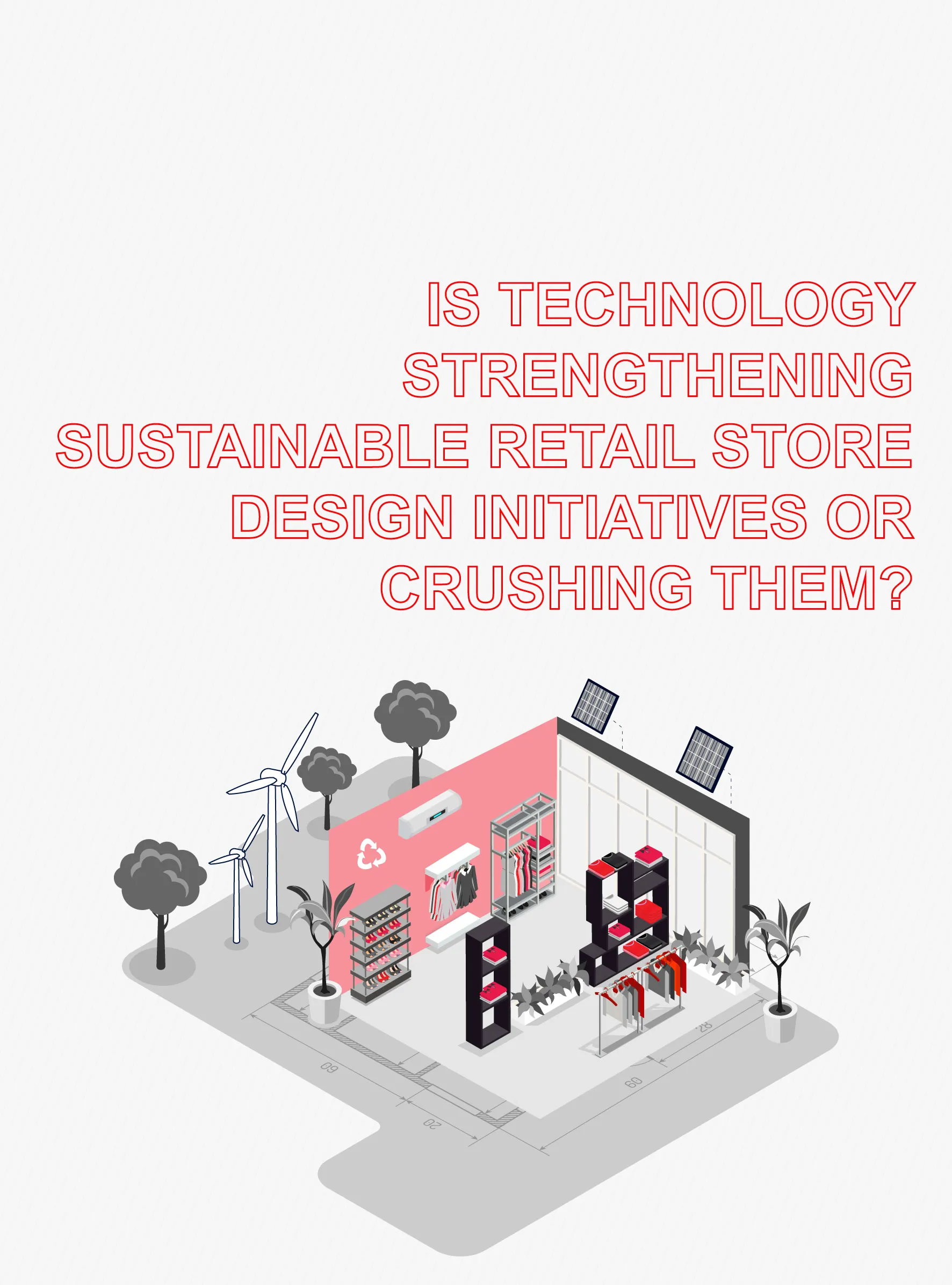 If future generations are to remember us more with gratitude than sorrow, we must achieve more than just the miracles of technology. We must also leave them a glimpse of the world as it was created, not just as it looked when we got through with it. ~ Lyndon B. Johnson
Sustainability and technology, in one statement, raise a million questions. While one changes the world, the other raises grave doubts about the future. Overall, it is a disarray of good and erroneous, and determining what is truly wrong is becoming a challenge. From operations to vendor sourcing and store designing, every stage in the retail ecosystem corroborates the world walking down an unsustainable path. Designers continue to stay under the radar.
The incessant pressure over climate and its disturbances have led to the rise of future legislation where authorities at the government level demand an immediate transition in business practices. Meanwhile, what matters most for retailers is their physical stores. Brick & Mortar is no longer just the central point of sale, but the holy grail for consumers, diversifying their touchpoint with technology.
But does this digitization kindle the initiative of sustainable retail store design, or is it just another fancy toy the retail industry glorifies as it jeopardizes the environment? While sustainability concerns were in their heyday, they have become a 'brand new' discourse for society and stakeholders. Instead, the vulnerability would only serve to extinguish the world.
As technological innovation accelerates digitization, an emerging crisis emerges with the depletion of resources and hidden carbon footprints. Nevertheless, overlooking technology's empowering boons don't seem fair play. Let's weigh the pros and cons to determine the aftermath of merging technology with sustainability.
Balanced or Unbalanced: Is technology meeting sustainability objectives?
The pandemic did a number on people, allowing retail stores to reclaim their position as the OG of the shopping experience. It meddled right in for retail businesses to see the light at the end of the tunnel. But it turned the tables while people were still trapped in the poly-crisis period. Amidst the rise of eCommerce, social media, and quick search, attention recession became a challenge. Technology had to make its way inside physical stores.
Taking it up a notch, AI made its way to immersify consumers' experience and cash in on the automation of operations throughout the supply chain. This brought simpler times for store employees and better service to visitors. Meanwhile, architectural concerns and the design impact of stores raised concerns about sustainability factors.
Soon, designers innovated 3D designing with a tweak in features like live drawing. Further, eliminating prototyping through VR technology strengthened the thread of less carbon footprint through collaboration over virtual means. As a result, small elements like non-traveling solutions contribute to lowering environmental carbon emissions. Besides the eco-friendly initiative of physical materials for creating stores, technology intervenes in the most minor details, collectively consuming energy and causing a rebound effect.
Final Say!
Technology is taking up the one-way street where the energy resources it takes up deteriorate the energy level and shift the ecological balance in nature. We are all trapped in a vicious circle where relying less on physical and more on digital pulls us back to square one with fossil fuel depletion.
It all comes back to the utilization percentage per need, not want. As retailers reevaluate the store structure to integrate sustainable elements as a necessity but not an option, they will be able to trace the more profound impact at a deeper level.